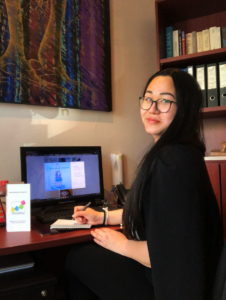 Sandrine Nachampassack has joined DomaParis during April as our new Community Manager and is now in charge of the digital communication strategy of the company, both on the web site and through our social networks (Instagram, Facebook, LinkedIn and Twitter).
During her childhood, following an eight-month journey in the USA during which she attended an American elementary school, Sandrine developed learning facilities to learn English. Later on, she gained an appetite for learning other foreign languages and therefore, after graduating from high school with a Literary Baccalaureate, she attended the University of Paris Nanterre and graduated with a Bachelor's Degree in Modern Languages, English-Chinese major.
Then she decided to specialize in the event communication field, by attending the EPH school (Paris 16) and graduated with a RNCP Level 2 diploma entitled « Event Project Manager ».
Wanting to learn more about the different professions in the communication field and in order to enhance her skills, Sandrine has been attending the MBA-ESG school (Paris 11) since 2020, first in MBA1 Marketing and Communication and this year in MBA2 Communication, Digital and Events.
Today, she is able to put her knowledge and her skills, acquired during all of her academic years, into practice within our company. She will be communicating efficiently about the services of DomaParis and creating content on a daily basis for our web site and our social networks.
We are pleased to welcome her and we hope that she will have a nice and enriching experience at DomaParis !